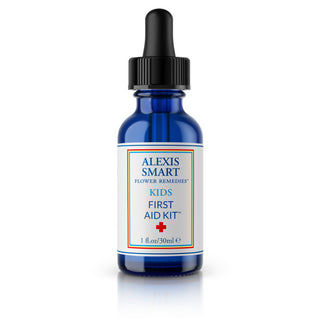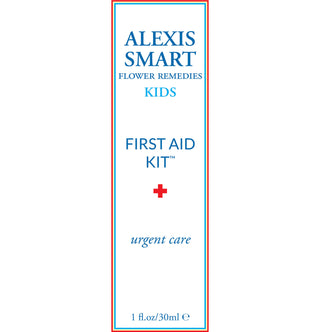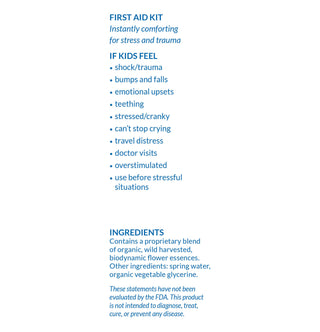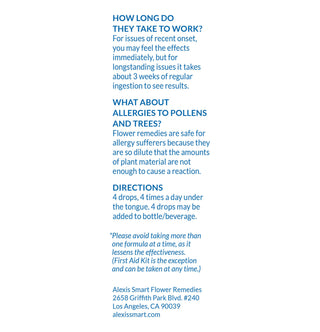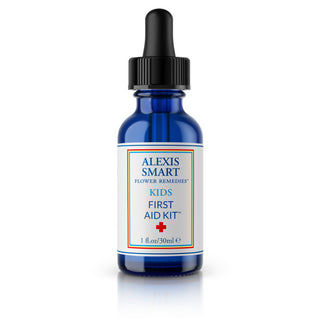 More Information
How to choose
Pick the flower remedy that most relates to your feelings and emotional state overall, at the moment. If some of the symptoms listed do not pertain to you, the formula will still be effective in treating the symptoms you do have. An inappropriate remedy will not hurt or cause adverse reaction.
Regular vs. Alcohol-free
Both versions are equally effective. It's just a matter of preference. The regular tastes like alcohol because it's preserved with brandy (handmade, biodynamic, artisan distilled from grapes). The alcohol-free is sweet tasting because vegetable glycerine is naturally sweet, but there is no sugar or sweetener added and it has a low glycemic index.
Mixing formulas
Please avoid taking more than one formula at a time, as it lessens the effectiveness. (First Aid Kit is the exception and can be taken at any time.)


"A few weeks ago I was doubled over with very bad stomach cramps. I remembered I had First Aid Kit and put it on my stomach to see if it would help and it took the pain away faster than anything I've ever experienced. It felt like magic- I almost didn't believe it! Seriously like 15 seconds!"
— Jess S.
"I got these on a whim. It has now become a staple in our medicine cabinet. When I feel stressed, or a little sick, I take First Aid and don't seem to fall sick. I also give it to my kids when they have bumps and bruises, or tummy aches. Great essence, thanks Alexis!"
– Karyl, Philippines
"I always travel with a bottle of First Aid Kit from Alexis Smart. Great for travel anxiety, jet lag, emotional well-being. Also Alexis's room spray is great to clear the energy of hotel rooms or spray around you once you sit down on the plane."
– Lauren Spencer King, Fields Of Study
"Hi Alexis, I've been taking First Aid Kit as needed and I find it incredibly effective - much more effective for me than Rescue Remedy. In fact, I took it today before a lengthy dental procedure and I found myself incredibly calm and relaxed. It was a completely different experience from the panic I experienced two weeks ago during the same exact procedure. Very grateful."
– Louise, Australia
"I bought First Aid Kit to help aid my child initially but we have all used it. When my husband was going through stressful times at work he came home and I gave him 2 doses (10 minutes apart)and found he calmed right down and was able to refocus and literally changed from flight/fight to a calmer and more centered person. I use it whenever anxiety rears its head. Also my daughter is prone to tripping due to enthusiasm and a carefree attitude, First Aid Kit really helps with her bumps and grazes."
– Caroline, Richmond, Virginia
"I just wanted to let you know how helpful your remedies have been. I keep First Aid Kit with me pretty much wherever I go, and it has been an absolute lifesaver when I start to feel anxious or upset. I've tested it in a few different scenarios, and I'm amazed every time that I find myself starting to feel overwhelmed with no obvious trigger (just inconvenient brain chemistry!) I can start the regimen up, and it helps clear the anxious fog in my brain and allows me to calm down and focus on one step at a time. Thank you so much for the great work you do - it really has made a difference in my life and I'm much better off because of the flower remedies that you create."
– Josie N., Iowa City
"I looooove my First Aid Kit! It replaced xanax on planes for me and in stressful situations on the road."
– Gregg, touring musician, Los Angeles, CA
"I struggle badly with panic attacks and used the "First Aid" during an awful attack last week. I was absolutely blown away by what this remedy did for me. It was amazing. I haven't stopped sharing with others what it did for me and I've been able to share your website with several people!"
– Abigail R.
"Dear Alexis, I am so grateful to have discovered your flower essences! I just started a few days ago and the effects have been immediate and wanted to share! Wow...I used First Aid the same day I received it...for a highly triggering emotional outburst of anger and it calmed me down quite quickly... my facial tension relaxed so much to the point where I see how all this accumulated tension is probably strongly correlated to my really bad teeth grinding?! I wasn't expecting flower remedies to physically calm my jaw tension... so that was a great unexpected plus. I am so happy and grateful I found your formulas to help manage it."
– Y.S.
FAQs
Pick the formula that most relates to your feelings and emotional state overall, at the moment. If some of the symptoms listed do not pertain to you, the formula will still be effective in treating the symptoms you do have.