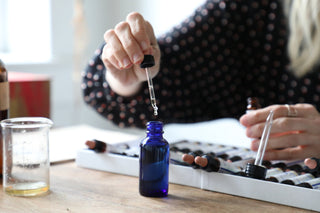 Photo: Sophie Assa  In our world, the best gifts are experiences. Gifting someone a flower remedy has the initial unwrapping wow of the magical little blue bottle that promises an exciting...

I lived in a house for eighteen years that was poisoning me and it never occurred to me that all of my health problems were being caused by mold. I...

It's been a while since we've done It's the Remedy, my series where I feature people whose loving nature and healing energy is like a remedy in itself. By just...

My Traveling Medicine Chest This is my traveling medicine chest. It's taken years to whittle it down to these essentials. With these remedies, I have weathered...

Meet Philip Smart — he's my father, my business partner, my best buddy, and unlike anyone else I know. He's an action man and makes anything I dream up...

After four years of clinical trials and tinkering, I finally got the glowing feedback I was waiting for. I am so excited to introduce the third remedy in my 

Long before the trend of psilocybin microdosing started, this principle was born from the mind of Samuel Hahnemann, the visionary who invented homeopathy in the late 1700's....

Hi, It's been a while! I am writing to you from Greece, where I come every summer to recharge. Swimming in the Aegean is like nothing else...

For obvious reasons, I'm thinking about holly at this time of year. But Oak is also on...

Gentle Medicine For Our Gentle Friends Safe and gentle, flower essences have been used...